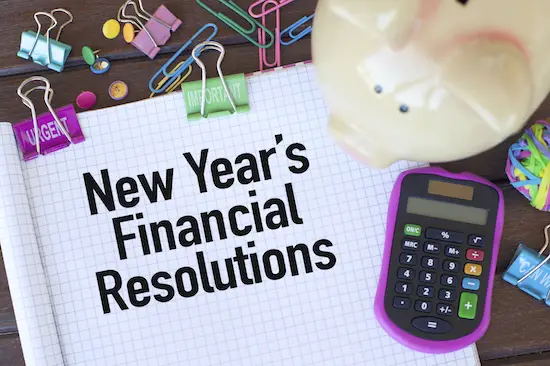 Happy New Year! Did you create any New Year's Resolutions? It's not too late. Hopefully one of your resolutions was to improve your finances.

Finances are a big part of your life.

Finances can destroy relationships; result in divorce, cause arguments, sadness, depression, anxiety, fear and health issues. Finances have to be properly managed at all times to ensure you are able to handle any ups and downs in life.
One key to improving your finances is to set financial goals that you know you will be able to achieve.

Make a promise to yourself that you will do at least one thing to become better at managing your finances in 2017.

Make sure your resolutions are positive statements that are linked to a specific goal, i.e. I will pay off my Visa bill (whatever that amount is) by March 2017 instead of an uncertain or negative goal such as, I hope I can pay off my Visa bill by March 2017 or I will try to pay off my Visa bill by March 2017.
If you stop following your new year resolutions, don't fret. Dust yourself off and get back on track. Remember you have 364 more days to get it right. Take advantage of them. Here are 9 easy ways to help you improve your finances in 2017.
If what you did in 2016 did not work then stop doing it. Avoid repeating the same mistakes. Do research or seek counsel to find a better way to do things and achieve your goals. You deserve it!
Ghost charges. Review your monthly financial statements, credit card statement and bank statements. Review every transaction. Look for recurring or variable charges that you no longer use, need or want and cancel them. Ensure that all charges are accurate. If not, contact the company immediately to dispute the error.
Interest
Save on interest. Refinance your auto, home, student loans or other loans to lower your monthly payments and interest rates and save money over a period of time.
Create a budget or spending plan and subtract your total monthly income (net) from your total monthly expenses and bills. Track spending daily, weekly, bi-weekly or monthly. Spend 70%, save 20%, donate 10% to charity.
Spending
Pay bills as soon as you get your paycheck. Pay bills online, by phone (if there is no charge) or by postal mail.
Learn how to negotiate prices. Pay less for everything. Learn the sales cycle for every store you shop. Ask the store manager when items go on sale and the types of sales they offer. Sign up for text or email alerts or connect on company social media sites.
Spend less than you earn. Reduce spending by 30%. Pay for most items with cash. Buy more needs versus wants.
Increase your income by at least $3,000 by getting additional training or education, getting a higher paying job or creating multiple streams of income.
Save
Automate savings. Open a savings account at a bank that is outside of your neighborhood or away from your employer.
Create a savings account to cover monthly bills and expenses for 12-18 months.
Look for online savings accounts that offer higher interest rates at www.mybanktracker.com.
Invest
Do not depend on social security because it may not be enough to live on during. Remember retirement is for one; do not depend on your spouse or partner's retirement to cover your retirement.
Look for no load or funds with low fees.
Save at least 20% of your monthly income towards retirement. Your retirement account balance should equal at least 30 times your current salary. Maximize contributions at least up to the percentage your employer matches. Make "catch up" contributions if are 50 or older.
Pay down debt. Pay loans off prior to the end of the loan term. Refinance loans to pay them off sooner.
Pay more than the minimum monthly payment on credit cards and loans.
Monitor your credit for free by ordering your credit reports at least once a year at www.annualcreditreport.com and increase your credit score by at least 15 points.
Keep credit card balances to 20% or less of the credit limit (pay off 80% of the balance).
Protect Assets
Get insured. Make sure you have adequate health, auto, life, disability and long-term care insurance.
Reevaluate insurance policies yearly or when a big event occurs – marriage, childbirth, death, illness, divorce, etc. Ensure you have adequate coverage.
Setup an estate plan no matter what your income to ease the burden of handling your financial affairs when you die. Create a will and advanced medical directive. Create a trust to reduce estate taxes and clearly identify how, when, where and to whom you want your assets distributed.