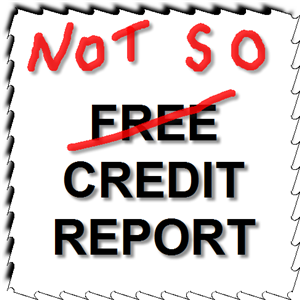 Consumers were entitled to one free credit report from each major credit bureau – Equifax, Experian and TransUnion every 12 months. Consumers are allowed to obtain a free copy of a credit report denial of credit, receive public assistance, a victim of fraud or are unemployed.
Some websites provide a free credit score but they are not affiliated with the mandated government website and the credit score provided is not a FICO credit score which is used by 90% of companies to rate consumers for approval for credit. Credit scores provided by many free credit score websites offer an estimated credit score. Most major banks offer customers a free copy of their credit score.
Not all free credit report websites are the same and many of the websites display information that is confusing to consumers. In exchange for getting a free credit score or credit report, consumers risk their personal identity.
Many of these companies sell, rent or share consumers' personal information that increases the risk of identity theft. Many of the free credit report websites offer a free credit report but require a credit card to sign up. The websites may also offer credit-monitoring services for a fee.
However, credit monitoring services can be received free of charge if you have been a victim of identity theft. The only reputable website to use is
www.annualcreditreport.com
to get a free copy of your credit report. The website charges a small fee to obtain a copy of your credit score.